In a world where digital connections often surpassed human interactions, an innovative initiative emerges. Timeleft promises to change the game, emphasizing sharing, surprise, and discovery of the other, all around a dinner. Dive with us into this culinary and social adventure that shakes up the traditional codes of meeting.
Reconnecting in the Digital Age
In a post-pandemic Paris, the French capital, known for its social effervescence, experienced a surprising paradox. While digital interactions became omnipresent and multiplied exchanges, the emotional distance between individuals has never been so pronounced. Loneliness, exacerbated by successive lockdowns, has heightened the desire for authentic human contact and real-life encounters.
Timeleft: Back to Basics
Where many apps focus on profiles, swipes, and often fleeting interactions, Timeleft champions a different approach. Beyond algorithms and personality forms, it's the real-life experience that matters: dinners, encounters, exchanges. The essence of Timeleft lies in its mission to create opportunities for these special encounters. Secure moments to converse with the people beside you, away from screens, to better connect with the real world. Dare to take a seat. And just say: "Hello stranger."

Timeleft's Lisbon Saga
Since its launch in Lisbon in May 2023, Timeleft quickly won the hearts of residents. With 20,000 subscribers, 1,000 dinners, and 6,000 participants in just a few months, the concept proved to be a real phenomenon. Renowned media such as CNN, Público, and RTP covered this rise, showcasing how Timeleft was redefining Lisbon nights. Maria, a regular at Lisbon dinners, shares: "Each dinner is a surprise. You meet amazing people, and conversations are always enriching." Jorge, another attendee, adds: "It's much more than a meal. It's a human experience." Following this craze, Timeleft quickly expanded to Porto. The first dinner welcomed over 150 participants, and by the second, this number rose to 200, thus confirming the universal need for authentic encounters.
Paris: The Next Logical Step
The City of Light, known for its passion for gastronomy and encounters, is the perfect setting for Timeleft. The entrance fee set at €12.90 opened the doors to a memorable evening. On September 27, Paris experienced its first Timeleft dinner, and the event was a resounding success. Over 120 participants took over more than 10 iconic city restaurants. One participant, Marc, shares his experience: "The dinner exceeded my expectations. I met people from all walks of life, and the discussions were truly captivating." Elodie, delighted with her evening, adds: "It's amazing how in just one evening, I felt close to perfect strangers. An experience I would repeat without hesitation." Another Parisian guest, Alexandre, concludes: "I had some apprehensions, but they vanished within the first few minutes. The ambiance was there, as was the good mood."
How Does it's Work?
Personality Form: Upon signing up, Timeleft invites you to fill out a detailed questionnaire to better understand your affinities.
Ticket Purchase: Once your profile is completed, buy your dinner ticket.
Group Teaser: The Tuesday before the dinner, a glimpse of your group is revealed, just enough to pique your curiosity.
Meeting Place: On Wednesday morning, the restaurant address is communicated to you.
Post-Dinner Feedback: After your experience, share your feedback to assess compatibility with other users. Your comments will help refine and improve group compositions for upcoming dinners.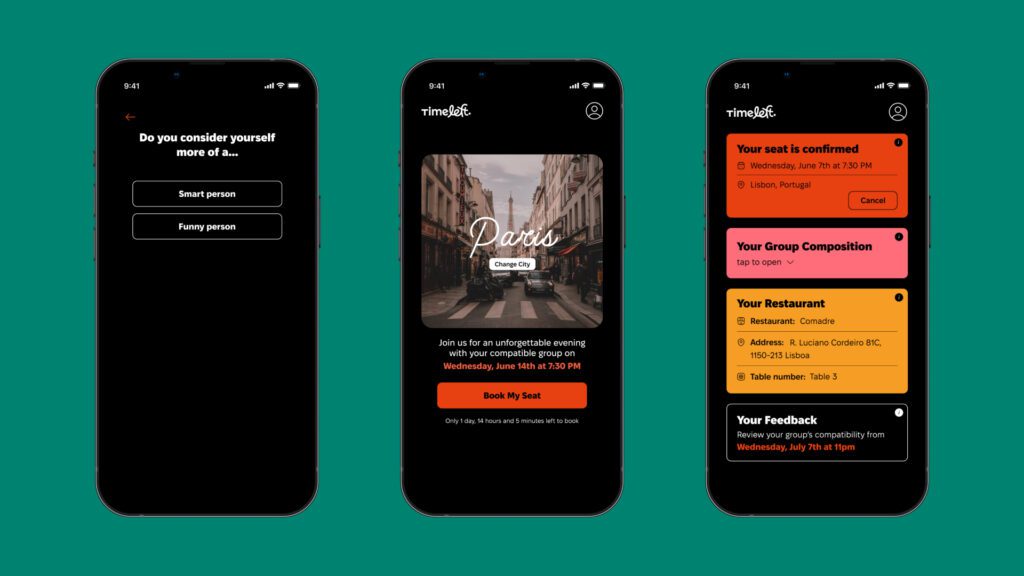 The Expansion Is Just Beginning
After Lisbon, Porto, and Paris, other European cities are in Timeleft's sights. With the need for human connection being universal, Timeleft's ambition is clear: to transform the way we meet and interact with each other, across Europe and perhaps beyond.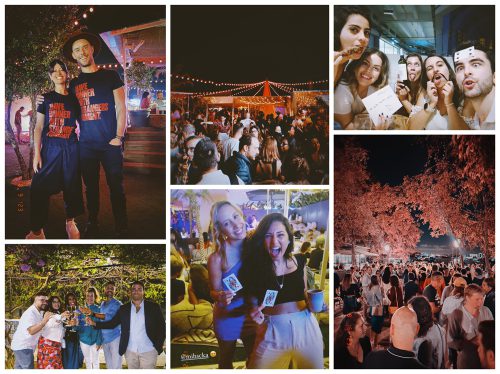 Don't Miss This Unique Experience
Convinced by the idea? Ready to experience a memorable evening and perhaps make encounters that will mark your life? Don't wait any longer, spots are limited, and demand is strong. Book your seat for the next Timeleft dinner now and be part of a true social revolution.